About Southampton
The city and surrounding area
Southampton has a rich and varied heritage. The Titanic Trail tells the story of the doomed maiden voyage of the Titanic which set sail from Southampton in 1912; the city's museums specialising in maritime, archaeological and aviation history tell the city's past; and some of the world's greatest ocean liners - the QE2, Oriana and Arcadia - frequently visit their home port of Southampton. Some of the world's largest maritime events are still based in Southampton.
The City offers a wide choice in entertainment, shopping, cultural, sporting and leisure attractions with first class venues for theatre, opera, music, cinema and a wide range of sporting and leisure activities available.
Southampton is located on the South Coast of England, in the county of Hampshire, which contains some of the most beautiful countryside in England - the cathedral city of Salisbury, the City of Portsmouth with it's naval heritage and the beautiful Isle of Wight are all close by. Only 12 miles from Southampton is the ancient City of Winchester with it's wealth of museums, galleries, historic monuments and medieval buildings. Southampton is a superb base from which to explore the region. Further information about the city can be found here.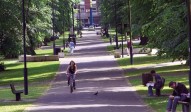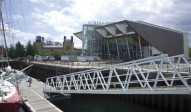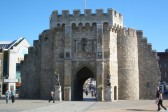 The venue
GeoEnv 2008 will be hosted by the
School of Geography
at the
University of Southampton
at their Highfield Campus. The campus is set on an attractive leafy site adjacent to The Common, Southampton's largest park, and features a range of facilities including cafes, bars, the Jubilee Sports centre, the Turner Sims Concert Hall, the Nuffield Theatre and the John Hansard Art Gallery.
Plenary sessions will be held in the Turner Sims Concert Hall. Opened in 1974, the Turner Sims hosts more than 60 concerts a year and attracts international performers in classical, jazz, folk and world music as well as providing first-class conferencing facilities.